Submission Guidelines & Policies for Text-based Works
GENERAL

Send all submissions as an attachment in .txt, .rtf or .doc format to submissions@kapsula.ca.

As explained in our mission statement, submissions need not be limited by time period. However, all submissions should have relevance to critical issues in contemporary art or visual culture. Above all, when considering submissions for KAPSULA we look for strong writing and ideas. Any text that requires intensive grammatical and stylistic editing will not be considered for publication. If you are unsure whether the topic of your submission will be of interest we suggest contacting us with a brief abstract (no more than 200 words).

We review submissions quarterly, according to the deadline set for the current call for submissions. We aim to respond to all submissions within 2 weeks following that deadline.

We will also consider texts that have been submitted elsewhere, however we cannot 'reprint' pieces.
FORMAT

KAPSULA publishes monthly according to four quarterly themes. For three months, each set of "Monthlies" focuses on a particular theme announced in the call for papers. This allows for more extended deliberation and consideration of each theme, while simultaneously releasing the criticism in manageable portions.
CITATIONS

Citations should be formatted according to the Chicago Manual of Style.
Prior to submission, please see our example page.
Please do not use auto-formatted footnotes within word-processing programs. Instead, use a square bracketed reference number that corresponds to a list at the end of the text. It is easier for us to format plain-text versions of texts.
We welcome bibliographies that offer readers opportunities for further reading (again, please ensure that formatting is plain text).
There is no limit on the amount of footnotes or bibliographical sources, but please limit your footnotes to 75 words or less.
AUTHOR INFORMATION

At the beginning of your text please ensure to list the following (in the order they appear):
Name
Institutional affiliation (if applicable)
Contact information (preferably email)
Short biography (preferably 75 words or less)
IMAGES

We encourage you to consider images that will compliment and enhance your text. As an arts publication, we are of the mind that our readership will respond better to a mixture of visual and textual information. As a digital publication we do not require print-quality resolution images, but we do require that you lawfully obtain permission to submit any images that are not your own.
Ensure images are in .jpg or .png format, no smaller than 1068 pixels wide at 72 dpi.
Figure captions with credits to the photographer/copyright holder should be included. Again, these captions should be listed at the end of the document or on a separate page (plain-text).
Please ensure that you have obtained copyright permission for the images submitted with your text. Please see our Image Permissions document.
CHARACTERS
- (single hyphen) for compound words
-- (two hyphens) for en dash
--- (three hyphens) for em dash
< > (angle brackets) wrap for hyperlinked content
/ / (forward slashes) wrap text for italics
* * (asterisks) wrap text for bold
COMPENSATION

At this time, KAPSULA does not pay writers' fees. Although we are a registered not-for-profit business, federal and provincial grant programs do not allow award money for publications to be spent on anything aside from print and production costs or marketing. And, because we offer all content for free without advertisements, we generate no revenue. However, KAPSULA is mindful of the problematic nature of free labour, and we are continually working towards a funding structure, and a sustainable one at that.

Recently, thanks to one of our esteemed donors, we were able to launch the Lisa Visser Writer's Fund which allows us to award one honorarium to a solicited author for each quarterly theme and builds toward a potential compensation model for the magazine. However, this fund is based solely on editorial purview and is not open to application through our regular calls for submissions.

In the meantime, KAPSULA realizes that the greatest compensation it can give to its valued contributors is exposure. As such, we offer all contributors advertising through our social media channels (Facebook, Twitter). For each contributor, we're able to post, tweet and/or send a note to our subscribers about: upcoming exhibitions, calls for submissions, research projects or recent awards.

Contributors may send their announcements directly to Sara@kapsula.ca, using these guidelines:
Full copy for your announcement with desired formatting
250-500 words
Any images to include as .jpg, 72dpi, 375 x 500 px max.
Text to be hyperlinked should be written as:
text to link [url]
Please note: Ads/announcements will only be accepted if we have already agreed to publish your work.
ACCOUNTABILITY

Contributors to KAPSULA are responsible for ensuring that any direct quotes, citations or any information otherwise presented as fact in their writing has been verified to the best of their knowledge and with due diligence in identifying the correct source. As a small, independent publication, we currently do not have the resources to fact-check submissions, and as such, contributors will be held accountable should any component of their research come under dispute. Although KAPSULA does not wish to inhibit our contributors from expressing their viewpoints, it is important that our publication serve as a platform for the debate of ideas and not whether something is fact or fiction.

Once a submission has been accepted for publication, our editors review the piece and send it back to the contributor to make necessary changes and sign-off on any revisions before the piece goes to production. By signing off in writing on the revisions to a submission, contributors certify that their writing has been fact-checked and indemnify KAPSULA against legal responsibilities that may arise from the publication of said submission.
Cover Image Submission Guidelines
KAPSULA welcomes artists to submit original art to be used as cover images for our monthly releases.
Although it should be made clear that KAPSULA is not a platform for exhibiting contemporary art, we do wish to support the emergent contemporary art community by exposing our readership to ideas and images that are fresh, salient and speak to the spirit of our publication.
We look for one new cover image each month. This is an ongoing call, but submitted imagery must relate to the current call for article submissions. The current call can always be found on the website homepage.
If you're not already a subscriber, we recommend you acquaint yourself with our past issues in the archives.
TO SUBMIT
E-mail a maximum of 5 images as high resolution .tiff or .jpg attachments to submissions@kapsula.ca

Please make sure your file is a minimum of 1068 pixels wide at 72 dpi, but no larger than 4 MB.

Please also include the following information w/ your submission:
Your full name
Your current location
A 50-200 word explanation of how your work relates to our current theme
Web, blog, or other online presence
Image information, including:

Title
Medium
Dimensions
Date completed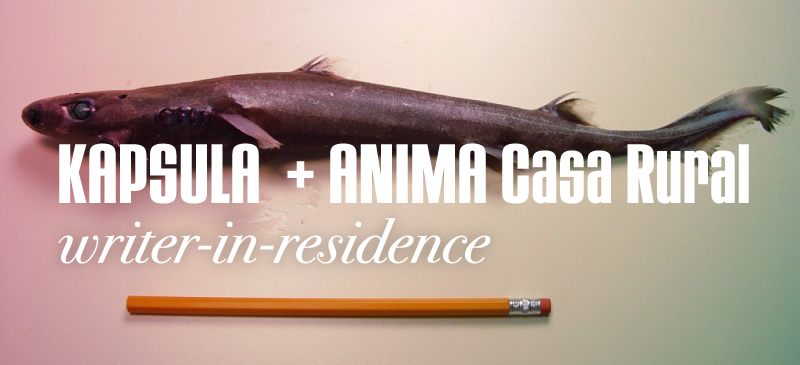 KAPSULA + ANIMA Casa Rural Writer-In-Residence Program
Residency Dates: February 13th – February 28, 2017
KAPSULA has teamed up with ANIMA Casa Rural Artist Residency program to offer a space for one writer to join residency participants at the ANIMA Casa Rural in San Isidro Mazatepec, Mexico this winter. The selected writer will work with the artists-in-residence as an embedded critic, collaborator, and first respondent to their projects. This role poses important questions about how geographical, if not emotional closeness between a writer and artist can affect the processes of creation and interpretation.
Without intention to sway the creative process, how can a writer act alongside art practices, maintaining close engagement with a critical voice? Tasked with surveying the work produced within the ANIMA residence and the surrounding landscape and locale, the residency must be approached with an ambivalence toward firm boundaries: those of a structure, those of a discipline, and those of reclusive living.
At the end of the two-week program, the writer-in-residence will compile all imagery and text produced during their stay at ANIMA, This might include completed interviews or articles, side notes, sound clips, annotations, and any other range of ephemera. They will then work with the KAPSULA team to produce a special issue of the magazine from these materials. The final product may end up taking on an overarching theme, or many. It could also map disparate approaches, avoiding curatorial guidance altogether. The purpose of this residency is not to spur representational or didactic writing: it is to set the stage for a cross-fertilized and invested writing that flips critical distance on its head.

Interested writers should submit the following with their application:
1-2 recent writing samples, no more than 2 pages each
A 1-page personal statement describing interest in the residency
Curriculum vitae (maximum 3 pages)
The selected writer will be expected to pay for their own travel, with the promise of room, board, and scenic views at the other end. Food costs are not included.
Please compile all application materials into a single PDF and email to submissions@kapsula.ca.
Inquiries about the application process can be directed to yoli@kapsula.ca.
EXTENDED DEADLINE: Midnight on November 18th, 2016
About ANIMA Casa Rural
ANIMA is a rural, sustainable, independent village home located in San Isidro Mazatepec, Mexico. Our self-directed residencies aim to offer time and space away for all manner of creative people from their usual routines and environment. We provide a time for reflection, research and production, and practice.
Learn more at
http://animacasarural.com/we-are/
and
http://animacasarural.com/residencies_home
.