SUBMIT
PARTNERSHIPS & SPECIAL PROJECTS
KAPSULA invites proposals for publishing projects that represent a range of cultural literacy. However, we place a special emphasis on working with small organizations that demonstrate a community focus. KAPSULA also welcomes proposals from individuals, collectives, and cultural institutions that aim to advance online art publishing through experimentation and collaborative approaches.

Collaborations may manifest as web-based content, as an interactive PDF, or as both depending on the nature of the project.

Partnerships and projects are selected via proposals submitted through the website (see form, below), and criteria for proposals is based on the artistic merit of an individual project or its mandate as well as how powerfully the content aligns with our own mission to provide a platform for experimental art writing in a networked context.

Types of projects we support:
Online curatorial research and projects
Conference proceedings
Satellite exhibition content
Experimental and/or interactive writing (ex. fictocritcism, interviews, journaling, annotations, data analysis)
Video and photo essays
SERVICES
For selected partners we offer comprehensive editorial and design services on a sliding scale payment model to support a professional and affordable means of widely disseminating content.

What to expect when working with KAPSULA:
Editorial consultation and services
Typesetting, layout and graphic design and/or collaborative design dependent on the nature of the project
Distribution of the project to KAPSULA's international subscriber-base
Creation of marketing materials including text and graphics
Co-promotion of the project
FEE STRUCTURE
Partner/project type

Academic Institution
Art Gallery or Presentation Space
Neighbourhood Organization or Community-led Initiative
Individual Artist or Arts Collective

Fee*

$2500
$1200
$800
$500
*All prices are listed in Canadian Dollars.
SUBMISSION FORM
GENERAL GUIDELINES FOR PUBLICATION
CITATIONS
Citations should be formatted according to the Chicago Manual of Style.
Prior to submission, please see our example page.
Please do not use auto-formatted footnotes within word-processing programs. Instead, use a square bracketed reference number that corresponds to a list at the end of the text. It is easier for us to format plain-text versions of texts.
We welcome bibliographies that offer readers opportunities for further reading (again, please ensure that formatting is plain text).
There is no limit on the amount of footnotes or bibliographical sources, but please limit your footnotes to 75 words or less.
IMAGES
We encourage you to consider images that will compliment and enhance your text. As an arts publication, we are of the mind that our readership will respond better to a mixture of visual and textual information. As a digital publication we do not require print-quality resolution images, but we do require that you lawfully obtain permission to submit any images that are not your own.
Ensure images are in .jpg or .png format, no smaller than 1068 pixels wide at 72 dpi.
Figure captions with credits to the photographer/copyright holder should be included. Again, these captions should be listed at the end of the document or on a separate page (plain-text).
Please ensure that you have obtained copyright permission for the images submitted with your text. Please see our Image Permissions document.
CHARACTERS
Please utilize the following characters in your text submissions. This is essential to making the design process efficent and effective.
- (single hyphen) for compound words
-- (two hyphens) for en dash
--- (three hyphens) for em dash
< > (angle brackets) wrap for hyperlinked content
/ / (forward slashes) wrap text for italics
* * (asterisks) wrap text for bold
ACCOUNTABILITY
Contributors to KAPSULA are responsible for ensuring that any direct quotes, citations or any information otherwise presented as fact in submitted texts has been verified to the best of their knowledge and with due diligence in identifying the correct source(s). As a small, independent publication, our capacity to fact-check submissions is limited, and as such, we ask contributors to be accountable should any component of their research come under dispute. Although KAPSULA does not wish to inhibit our contributors from expressing their viewpoints, it is important that our publication serve as a platform for the debate of ideas and not whether something is fact or fiction.

Once a project has been accepted for publication, our editors will review individual drafts and send them back to the contributor(s) to make necessary changes and sign-off on any revisions before the piece(s) goes to production. By signing off in writing on the revisions to a submission, contributors certify that their writing has been fact-checked and indemnify KAPSULA against legal responsibilities that may arise from the publication of said submission.
Cover Image Submission Guidelines
KAPSULA welcomes artists to submit original art to be used as cover images for our monthly releases.
Although it should be made clear that KAPSULA is not a platform for exhibiting contemporary art, we do wish to support the emergent contemporary art community by exposing our readership to ideas and images that are fresh, salient and speak to the spirit of our publication.
We look for one new cover image each month. This is an ongoing call, but submitted imagery must relate to the current call for article submissions. The current call can always be found on the website homepage.
If you're not already a subscriber, we recommend you acquaint yourself with our past issues in the archives.
TO SUBMIT
E-mail a maximum of 5 images as high resolution .tiff or .jpg attachments to submissions@kapsula.ca

Please make sure your file is a minimum of 1068 pixels wide at 72 dpi, but no larger than 4 MB.

Please also include the following information w/ your submission:
Your full name
Your current location
A 50-200 word explanation of how your work relates to our current theme
Web, blog, or other online presence
Image information, including:

Title
Medium
Dimensions
Date completed
CALLS FOR SUBMISSION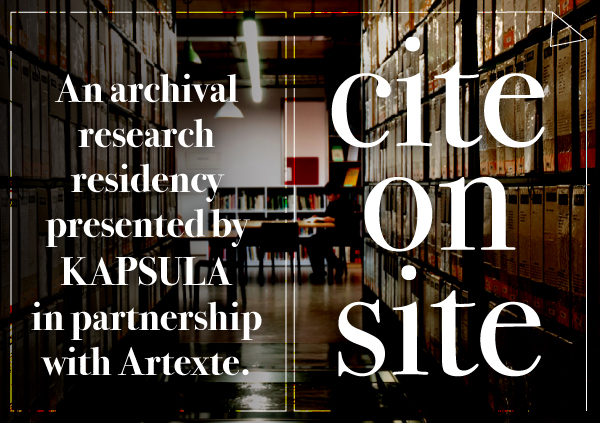 Background image courtesy of Artexte.
Deadline: JANUARY 22, 2018 at midnight
KAPSULA and Artexte have partnered to offer a research residency at Artexte's documentation centre in Montreal, Quebec to a select applicant in May 2018. The residency provides an opportunity for an emerging scholar, artist or writer working within Canada to conduct a personal research project at Artexte, working with the centre's extensive collection of textual materials covering visual arts in Canada from 1965 to the present. The outcomes of the research residency will be published in a special issue of KAPSULA in fall 2018.
While the topic of the research residency is determined by the resident, they will be asked to employ the bibliography as a conceptual and/or structural prompt for creating their output. A bibliography can be both enumerative, a systematic listing of references, or descriptive, a record of qualitative data. A bibliography may serve as an anatomical record of a physical object—a means of turning the insides out, so to speak—or as an expansive network, bringing objects into relationship with one another. Bibliographies function as micro and macro tools, perform autobiographically, act as indexical records, present textual cartographies—they document action and process. Taking the interactive and networked medium of the web into consideration, the possibilities of the bibliography extend to create a living document of relations that invite feedback and participation.
We ask that applicants consider expanded notions of the bibliography in relation to Artexte's collection to formulate their research project. Applicants should indicate an interest in digital publishing tools and relate this to their research project or question. How can the structure and interface of the digital perform bibliographically? It is not required that applicants have expertise or experience in digital publishing, but they should consider the final output of the research residency—a special issue of KAPSULA Magazine—in their application.
Residency Details
10 consecutive days (between May 1st and 20th 2018);
A research honourarium of $750.00;
Compensation for travel expenses up to $750.00 (maximum);
Accommodation in Montréal and per diem ($50/day)
Residency includes:
A work space at Artexte;
Support from Artexte's Librarian in carrying out research;
Access to a storage area;
Internet connection;
Access to a printer/photocopier, and scanner;
Use of Artexte's kitchen and conference room;
Editorial and production support from KAPSULA
Application Materials
Curriculum Vitae
Short project description (300-500 words)
Writing sample (5 pages or less)
SUBMISSIONS ARE NOW CLOSED
ABOUT OUR PARTNER ORGANIZATION

Artexte is a library and research centre for contemporary art. Its library collection counts more than 28 000 physical documents available on-site, and more than 1000 digital publications available in open access trough e-artexte.ca, a digital repository and library catalogue. Artexte welcomes researchers and artists for residencies, and has an exhibition space that gives the opportunity to work with the research community to create exhibitions and events based on the collection. Artexte preserves and gives access to documentation about visual arts, supports research, encourages the dissemination and creation of knowledge and critical thinking through their collection, publishing activities and public programs.